Crossing Latin America via car...
I am re-locating later this year to Bolivia and am considering driving down in my sweet old VW Baja Bug with my dog in shotgun.

Should be a sweet ride from San Francisco, but I have some questions…

I have heard that crossing the Panama canal with a car costs a bundle in taxes etc, and that there are other border crossings where you can get ridiculously hit up for dinero as well.

Anybody have experience driving across Latin America and willing to share some tales and knowledge? Thanks in advance!

by Brian L Frank at 2007-11-02 00:33:37 UTC (ed. Mar 12 2008 ) San Francisco, California , United States | Bookmark | | Report spam→
email Christoph Bangert, a fellow LSer- he did this journey, well from Argentina to
NYC
, a few years back and did a book about it. Also try Lonely Planets online chatroom, the Thorn Tree- guarantee youll get some folks who have done it, and who are doing it right now. One issue youll have is getting carnet de passage- basically a permit stating that while in country you wont sell your vehicle, and youll "export" it out the other end when you leave the country. They can be a pain to get,and can be expensive- I think the real issue is planning ahead. You have to get one from each country you are passing through.
Some nations require it, but then not care. Others will be strict on it.
How long do you have ? I would wager youll want at least 6 weeks to do that journey justice. It can be done faster, but youll be driving all day every day. If you were doing part this summer, Id gladly join you.
by [former member] | 02 Nov 2007 03:11
| enroute to VII seminar, LA, United States | |
Report spam→
We took a series of busses from SF to Buenos Aires in 2005 and 2006. As for the journey, it's a very wonderful way to travel. You get to see all of the in between places. I have no clue how to ship a car though, sorry. Perhaps one day they will complete the road from Panama to Colombia, buuuuut probably not anytime soon.
You could read Road Fever by Tim Cahill, he drives a truck from the Southern tip to Alaska. It might be a bit dated now, but I'm sure it still has some truth to it.
My lady kept a great little blog while we were on the road:
http://www.meganlyles.com/


by [former member] | 02 Nov 2007 03:11 (ed. Nov 2 2007)
| New York City, United States | |
Report spam→
Just found this pretty sweet forum….
Here
Brian,
I found this usefull to glance at the different options:
http://en.wikipedia.org/wiki/Pan-American_Highway
maybe something helpful here, or perhaps you can contact the blogger ..http://panamvan.blogspot.com/2007/05/dust.html
also, if you haven't already, you might consider getting your pup microchipped and a new collar with contact info on the collar itself, not just tags that can fall off…
what kind of dog?
by [former member] | 02 Nov 2007 14:11 (ed. Nov 2 2007)
| New York, United States | |
Report spam→
also see this trip http://torlasco.tripod.com/index.html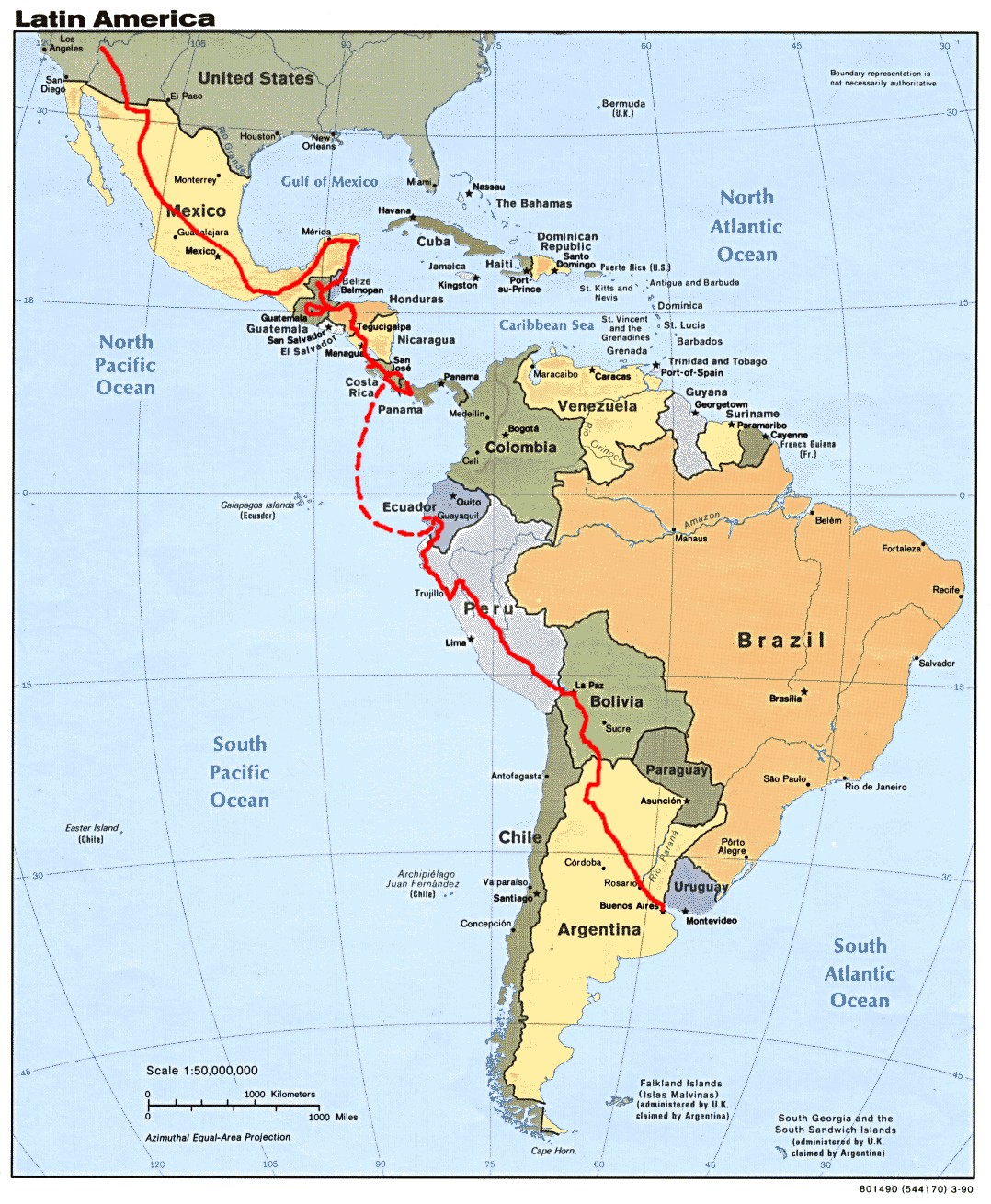 ooh, that's really BIG, sorry.


by [former member] | 02 Nov 2007 14:11 (ed. Nov 2 2007)
| New York, United States | |
Report spam→
hey I'm based in Panama City, Panama I can tell you for sure that you will coming in to Panama from Costa Rica and the road is on the Pacific side of the Canal and you dont have to cross that canal in a ship or ferry or any of that, you can drive to Colon in the Atlantic and then take a boat to Colombia to contibue your trip, because that side is closer to the border.
I'm willing to make a few calls to find out how other people doit.
I'm leaving to Colombia on assigment next week so send PM to remind me before I leave and let's keep in touch,


I'm so damn envious. Be safe.
In half of november, i will live in Mexico City.. if you need help.. let me know
best
by [former member] | 03 Nov 2007 11:11
| goinbg back to my home, Italy | |
Report spam→
Brian, I have one suggestion if you cross into Guatemala from Chiapas, Mexico. Cross into La Mesilla, Guatemala from Ciudad Cuauhtémoc, Mexico if at all possible. The government offices on both sides of the border are really helpful and it's a popular route for people doing a journey such as yours. The main thing is to avoid the Talisman Bridge crossing south of Tapachula, Mexico. There you'll be harangued by a mass of people with fake government ID's, many high on huffing solvents, who will promise they'll make your crossing easy with their assistance. All the while trying to get you to part with your passport (a huge never-do).
Also, get an additional official copy of your car title, keep one back in the US, and carry more regular copies of that and your registration than you think you'll need. I think I ran through about 4 while crossing Mexico/Guatemala twice.


Wow! Adventurous Spirit! A former mentor of mine drove from So Cal to Guatemala some years ago.. and while driving at night got all of his cameras, gear, etc.. stolen. The good thing was he had credit card, money etc… in the soles of his shoes. :0) Some other colleagues also brought copies of Penthouse, Playboy etc as "mordida"..
http://www.jlwoodywooden.com/
Contact.. bien viaje
There is a really funny book called Road Fever by Tim Cahill – Driving from the tip of South America to Prudhoe Bay, Alaska – in 23 1/2 days. Was written a while ago so maybe not useful as far as border crossings and current political situations – but some highly entertaining info about how to get the right papers and who to avoid, pitfalls to steer clear of and what to do when you can't – worth reading just for the laughs, he has a great sense of humor.
Ditto on bringing a huge stack of Penthouse, Playboy, etc.. to go through traffic stops!
Hi Brian,
Sorry for not getting in touch earlier. I was traveling a lot, now I'm in Amsterdam.
I published a book about my journey from Argentina to Terra Del Fuego and up t New York in January this year. I drove a Land Rover.
You can find the book here.
And also on Amazon.
You will have to ship your car from Panama to Colombia or Ecuador. I shipped with Maersk in a container from Manta to Panama City. It's fairly easy to arrange, but not cheap.
You also need to check if you need customs documents. With a European license plate I needed a so called Carnet de Passage.
Please feel free to contact me any time.
Right now I am traveling from Germany to South Africa overland with the same Land Rover.
(I am just interrupting my travels for the Masterclass here in Amsterdam)
The car is parked in Cameroon now.
You can read about the Africa journey here.
Best
Christoph
www.christophbangert.com


by [former member] | 03 Nov 2007 17:11
| Hamburg, Germany | |
Report spam→
I've only driven from the Bay Area to Guatemala & Belize but didn't have any real problems. The border crossings were fairly painless if you know how to spot BS and call it.
The best advice I can give is avoid driving in Mexico City at all costs, watch out for the army checkpoint in Acapulco where they will try to shake you down, if you have to drive at night try and follow another car because they will give you advance warning of a topes (the massive speedbumps they have in Mexico that will seriously mess up your car).


Aside from there is no road that goes through Darién Gap(into So. Am.) there should be no problem. I think someone tell me you can ship the car across.
I would think it's more fun taking the bus train and boat, get to meet the people, no unwanted attention. and don't have to deal with bribing every cop you run into. Don't have to deal with a broken car, or having something to drag you down when you want to leave.
Just buy a car when you get there?


Thanks so much to everybody that has helped me out on this one…. Sorry to have not replied until now….
I have read that the alternative to shipping the car around the Darien is to load your ride and yourself on a ferry that goes around the gap…
Dont know if this is true, but supposedly it is far cheaper and more fun than shipping the car and meeting it on the other side.
I have considered bussing it down, but then I wouldnt be able to bring my pooch, and dont know if I could handle that. Plus, driving yourself brings all sorts of freedoms to explore.. (and possible headaches of course) but I have had some pretty dodgy experiences on Latin American busses as it is, (wheels hanging off a cliff in Peru comes to mind), so Im thinking that Id rather take my chances behind the wheel myself.
Its funny, relocating for the love of work is hard enough, leaving your loved ones in search of something you arent even sure to find is not an easy decision, Im hoping that at least having my hound with me will balance me out a little.
Erica…. My pooch's name is Oscar, he is a whippet mix that ive had since he was a weird little giraffe looking thing at 6 weeks.
(photo by my roomie Kristina Barker)


when are you planning to make the trip?
if you need some help for costa rica just write me.
this year was terrible for the roads in Costa Rica… too much rain and some parts of the interamerican highway are still being repaired.
My friend drove from San Francisco to San Salvador in the mid 90s in his VW bug and the only trouble he had was people asking why on earth he would move a car all that way when they are readily available in Mexico, Guatemala and El Salvador.
He had a blast and he loves having his car.


Yeah, buying a vw in mexico would be a nice option i hadnt thought of, its just that i have mine all customized for rugged roads (baja bug) and ready to go, and im kind of attached to it on top of that (my dog, my leica and my bug are pretty much my children)….
One thing I have considered though is to get Mexico plates while im working there in January. My girlfriend has family there, so I need to look in to how hard it is to get local plates.
I think having the Mexico plates will be a big advantage as having California plates would be like having a big 'rob me' sticker on the car (especially the farther south I go).
Im not sure where to start on getting foreign plates on my US ride, but when I find out how to do it, Ill post it here….
And by the way, thanks so much for all the help on this post, you folks are awesome. Right now Im flip-flopping on a departure date, but I will hopefully have a better idea soon.


Man,
first of all good luck and have fun.
Second, I'm not sure I would really stress the Mexico plates that much to be honest. There are so many immigrants who return home (especially around Christmas and New Years) that your plates probably won't stick out too much. I guess this will depend on the towns you are in but I remember being in a little mountain town during the 2005-2006 new year in Michoacan … and I saw more Illinois license plates than anything else, but also plenty of plates from other states. It's the time to see family. You will find people from certain villages all have family in certain parts of the U.S.
I can't wait to see what you come up with on your journey … I'm jealous and haven't gotten to get move around too much lately…


Just watched the movie "Salvador" again the other night. Judging by the movie, the trip from SF to El Salvador should take a couple of hours.
Take a bunch of gold-plated watches to use as bribes.


by [former member] | 28 Nov 2007 05:11
| Tokyo, Japan | |
Report spam→
I don't know what the process is like in Mexico, but I couldn't get Salvadoran plates on my car (that I bought there) until my temporary resident card went through, which took about six months. Also, having Mexican plates isn't necessarily an advantage in Central America. I encountered much more disdain for Mexicans than for US Citizens when I lived in Central America.
I also ran across a US couple on the Salvador/Honduras border. They had driven from Tennessee and were headed for Nicaragua. They didn't speak any Spanish and hadn't researched which papers they would need for which crossing. As a result they had paid $100 in Mexico to a man impersonating an immigration official for a pass they thought would get them through to Nicaragua. I found them in the middle of a group of about 30 people who all wanted to sell them similar passes to get into Honduras.
I have no idea what kind of paper work you need, but doing the research can save you some headaches at border crossings.


Brian,
In 2002 I did a year long Motorcycle trip from South Carolina to Tierra Del Fuego and back up to Argentina.
A website that was invaluable for preping the trip was Horizons Unlimited
http://www.horizonsunlimited.com
While most of the site is dedicated to Motorcyclist there is a wealth of information there for people driving cars as well. The forums are great and responsive.
From my experience the roads are fine for the most part all the way through Mexico and Central America. They got a little hairy in Peru and Bolivia but were manageable. You will need to fly your car from Panama (there used to be a good list of carriers that would fly vehicles on he site above)to Ecuador or Colombia. Colombia can still be dangerous in parts so I would do some serious research before deciding to go that route. Their used to be a ferry that would take you to Colombia but the last I heard it no longer exist. I never had to acquire a carnet and don't think you will for American tags (this may have changed and may be different for vehicles).
Border crossings can be time consuming but that's to be expected. You will have problems with the police as well but you'll be amazed at how much you can talk them down if you're persistent. I talked a cop in Mexico city down from $100 dollars to $10 and it included a blue light escort out of the city. Footprint guide books are the way to go with information regarding driving through Latin America. They have info for each country that tells you what you'll need and what the road conditions are like. It's a must have, and the maps in the back are pretty good as well.
You're going to have the time of your life. Let me know if you have any questions I'd be glad to give any advice I have.


One of the ways you can take and is the one that most centralamericans use when they bring down their vehicles is the following: Drive (you need to cross Arizona and New Mexico) to the McAllen border in Texas coming down Tampico. Is best that you drive along the Gulf of Mexico coast until you hit Veracruz and head down to Oaxaca and then Chiapas, using the Tapachula border which is the most trafficked by truck and automobile drivers. There at the Tapachula border the Customs line and office for vehicles wil be on your right hand side. Sometimes the line is long and have to wait up to a couple of days to get your papers in order, there you will also find a bunch of people approaching you to file the permits for you, for a fee they will do it, they are reagular people tha is how they make their living. It is good to have one of them do it because they know how to work their way into the system, just be cautious in who you pick and bargain always bargain. The you can just drive down Guate along the pacific coast (it a little different than the Cali
PCH
) you can go straight thay CA-1 road into the Hechadura (El Salvador-Guate border) or you can drive into Guate city and then take the road that leads to the other border, Las Chinamas. In Guate City ask in any gas statation whic is the road that can lead you to El Salvador(it is the one in Zone 15) just ask, trust me someone will help you. Las Chinamas in my opion is better because is not trafficked as much as the Hechadura one, the Chinamas can be safer too, from what I hear there have been a few robberies at the Hechadura and is not considered safe. I have travelled many times to Guate via Chinamas at various times of the day, crossing it one day at midnight, and I havent had any probles, plus for your info the Hechadura border closes at 9pm I believe and I know that the Chinamas is opened 24hrs. Then you will need to cross El Salvador into the Nicaragua border, dont worry it is only a 5hr drive from begining to end. That is all I know I have never driven to Nicaragua only to Honduras via El Poy but you dont need to cross Honduras in order to get to Nicaragua. Unless you would like.
In Mexico you will experience ¨mordidas¨ which are not as bad as how it use to be in the 80´s and 90´s but you still have to do it once in a while. Eventhough in the Fox years it was stricly prohibited to do it, but you know how latin america works, it won´t stop it will just slow down. My recomendation is to take the road I mentioned above and avoid Mexico Ciy or crossing though the center of Mexico. If you just drive straight it will take you 4-5 days to get to El Salvador, driving all day and stopping at night. Do not recomend for you to drive at night, specially in the state of Oaxaca and Chiapas. But if you are not in a hurry and take the Tampico-Verarcruz road you can stop along the beautiful coast of Veracruz and enjoy it. Bribes are not common in Guatemala so don´t worry but there is a small possibility that you may encounter a corrupted PCN (Policia Nacional Civil) officer.
Let me know if you need any more help….hey maybe I can hitch a ride with you when you get to Sansivar :-)
Have a wonderful trip!
Ah, I almost forgot at the McAllen border you can join one of the many caravans of central americans which bring cars to CA via Mexico, if you travel during high season you will find many of them.
PS: Excuse my typos.


Wow, thanks for taking the time to pass all that along Juan Carlos….
So much info in there, Im about to go look at my map.
Ill be in touch with you for sure if I end up passing anywhere near ya.
Thanks again man!


Hi Brian,
What a voyage!
I recomend you to do the baja as well (crossing from caléxico or san diego) 2-4 days driving down the peninsula through desert scenery and then take a one day ferry crossing the sea of cortés, to "main land". to continue your journey.
If you need some help once you are in mex and near mex city, here is my mail.
Safe trip!
beto@betoadame.com
betoadame.com


Well, the dog has been pushed to the back seat, and a few extra reprobate photogs have been added to the first leg of the journey, along with a fat zen kitty named Zinj….
Follow the ride at www.yellowbugdiaries.blogspot.com
Cheers!