please have a look www.stephenferry.com
friends,

I would be happy if you would take a look at my first personal website, which I just put up. www.stephenferry.com

Sandra Roa and I put the design together. Im eager to know what you think.

Thanks, stephen

by [a former member] at 2007-12-12 21:29:13 UTC (ed. Mar 12 2008 ) bogota , Colombia | Bookmark | | Report spam→
looks good… I like the size of the photos and the navigation is easy… the design is very simple and clean as well. nice work.
I ordered "I am Rich Potosi"… really looking forward to it's arrival!


Nice and clean. Easy to navigate. The only thing that I would point out that in some images the contarast is a bit off, the blacks are not really black but 'milky'. But otherwise lovely work.
Thanks very much guys for your feedback. I will rescan a number of the images when time allows, cause I do like my blacks black.
Stephen
by [former member] | 12 Dec 2007 22:12
| bogota, Colombia | |
Report spam→
Very nice. same comments as Narayan and Peter.
Fotoperiodismo puro, todo muy bien Stephen. I don't see weak blacks so I supose is all matter of profiles or calibration. At inverse I see too much contrast in the color pix, so take all this with a grain of salt. Saludos
That's great work, Stephen. I'm especially fond of 'the sinister hand'…
by [former member] | 12 Dec 2007 23:12
| Nashville, TN, United States | |
Report spam→
never a dull moment – excelente fotografia y el sitio se deja ver muy bien
Most of the images are fine, but there are some in which the black isn't that black. Such as image 15 in law of origin, or image 3&9 in I'm rich potosi, image 2 in the sinister hand and so on…
i had another look at the site and i would like to point out a few other very minor things – why does a new window open when you click on the 'intro' site? I find that unnecessary, i like to have things contained in one window, but that's just me. the other thing is that the vast majority of monitors out there are 1024×768 resolution and when i view your site in this resolution it doesn't fit by a tiny fraction. i have horizontal and vertical sliders… you have space up and on the left, maybe moving the photos and text a little to the top-left would give it a neater look.
but these are just technical issues, i have to say I'm very fond of your work, my personal favorite is 'macondo' but then I'm very bias, because i have no words how to describe my love of marques' work, and especially 100yrs of solitude… your images are very vivid, just the way i would see macondo, they will stay with me for a long time… thanks of the amazing work :)


Stephen and Sandra:
As others have said, very clean site design, and straight forward nevigation. I especially like the large image size. Great job.
Stephen as far as the images all I can say is wow. Stunning.
I think The Sinister Hand and Macondo are my favorites overall, but damn there is just a lot of strong work throughout all these stories.
And folks, DO NOT miss it because many many strong images are to be found in the "Clips" link as well so check it.
Just a word of caution. As Hernan said in his post above take feedback on contrast,hue,staturation etc with a grain of salt. It is largely a matter of calibration, profiles etc. If you are sure that your systems and hardware are calibrated and tight and your images look right to you on those systems, then I would be reluctant to re scan or alter them. Of course you are fortunate enough to have an in house expert on this stuff so if I were you I'd follow her advice : )
Mark
Exquisite plus plus. That motorcycle on the push cart is amazing.
Nuff said.


stephen… i got lost immediately by the power of your stunning work.. i didn't notice any technical issues until i read the rest of the comments and then went back… so i guess my input is first, thank you for the gorgeous work and necessary stories, and secondly and less importantly: i'm not a big fan of the pop up window and it is indeed a fraction too big for my 15" screen. as for the blacks and grain.. i assumed what i saw was intentional and because of the power of the photography i never questioned it, it just didn't matter to me… thanks for sharing, and best of luck to you.
by [former member] | 13 Dec 2007 06:12
| Austin, Texas, United States | |
Report spam→
Great photos, a very simple and clean site. The title is fabulous "non fiction photography", as for the technical things call me old fashioned but sometimes I don't want my blacks all black. The popup is alright though the sizing of the window is strange, 2 scroll bars on a 1024×768 screen and then on my 1920×1440 screen there is still a horizontal scroll bar although it can't be moved and the popup can't be resized. I also checked it in internet explorer the horizontal scroll bar is there with a tiny bit of room which doesn't make much sense.
Just small technical issues but I really like the design and content.


Great work Stephen !
The site is clear and fast working and your pictures are strong !
Going to Cuba soon, will think of your work…


Good work.
Navigation could be a little bit faster of more fluent with flash maybe but, sincerely, I prefer sites without flash (they are much easier to upgrade/change and browsers do not pick up flash content).
I would not feel comfortable publishing on the web such relatively large images but the effect while browsing is pleasing.
Ciao,
Alessandro


very nice website. easy to navigate. wonderful work.
I have an idea for the homepage….
I'll write you
Comrades,
I take several things from your comments, and I hope to work yhour suggestions into the site, time permitting. The sizing issue is serious. I definitely need to address the issue of the scroll bars being hidden and all. I guess we were optimistic about our real estate. On top of it the 1024 screen may not even be the norm nowadays.
As for color and contrast, Sandra and I worked a lot on trying to bridge the big gaps between pcs and macs, to find if not a happy medium then at least to get an idea of the main differences. In general PCs register images on the contrasty side with blocked up blacks. So the milkiness on some monitors may be a result of trying to accomodate the Bill Gates/Steve Jobs divide.
There is another factor that may lead to milkiness in the blacks: digital noise. There are two b + w stories on the site, one set in Cuba and one of the FARC releasing POWs. The one of the FARC has a lot of digital noise pumped into it, which speckles the blacks with white dots. The other story was shot on film, with a purposefully grainy developer which doesnt get into the blacks.
I myself like digital noise, in some cases, a lot.
thanks, stephen


by [former member] | 13 Dec 2007 09:12
| bogota, Colombia | |
Report spam→
Stephen: well done. The image of the person floating in the pool with the city as a backdrop is fantastic. I sent you a PM.
Easy to navigate, the contrast wasn't a big deal to me. Actually liked it in the Rich Potosi; gave a great feeling to the atmosphere of the mines.
The only thing I'd like to see is a small bio. After looking at such fantastic pictures, I usually want to know a thing or two about the person who took them. At the very least, where they are from, where they are, etc.


by [former member] | 13 Dec 2007 12:12
| Philadelphia, United States | |
Report spam→
mustafah, there is a bio – left botom corner
Absolute fabulous Stephen…
Like specially the ones from Cerro Rico. Look at them has made my day!
I've been in the same mines around 4 years a go, and look now at you shoots bring loads of memories back. Pity my photos are not even near the quality of your ones…
Congratulations on the website.
Paulo
P.S: just two of Cerro Rico: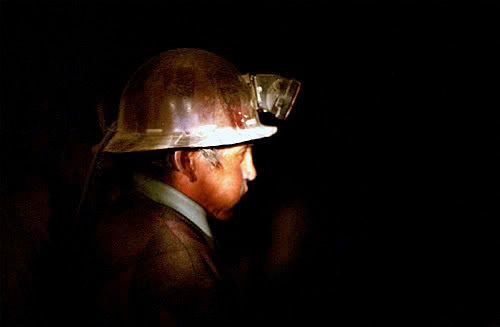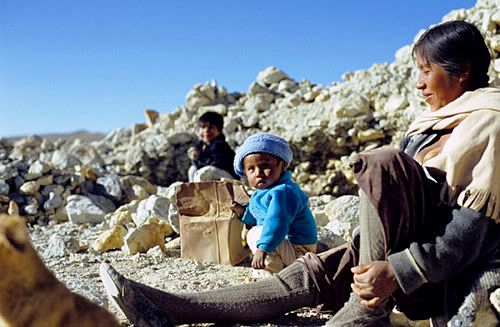 I really liked the site, easy to navigate and very functional, even on my 12'inch mac, but most of all I loved the images, they are great!! thanks for sharing, best, Miguel
by [former member] | 13 Dec 2007 15:12
| Lisboa, Portugal | |
Report spam→
Personally I like the saturation, like in your book, could be a kind of "trade mark"
Great photographies as well as strong.
The digital noise in some is not disturbing when seen as a feature.


Hi
great photos, and very good site to navigate.
All the photos are excellent, but I were expecially stunned by the number 7 in the Sahara gallery.
Thank You
ciao Tommaso
The Sinister Hand is a really powerful story. Havana Press is an important lesson in trust and the consequence of deep personal involvement. Thanks for including the background stories.There are some typos(along with other memeber of the foreign press corp….). The website works.
Participants
alfa
[undisclosed location].
Keywords