I started my career as an Assistant Cinematographer and worked with reputed Cinematographers in India for many big budget feature films.
I worked as an Assistant Director / Associate Director for a few feature films.
I wrote for a few feature films and have recently written the story, screenplay and dialogs for an English feature film titled "Kings Cross" shot in London.
I worked as a Fixer / Line Producer for many International production houses / networks in India, Asia and Africa.
---
Some of the projects I was involved in:
White House Press Corps – President Obama's visit to India in January 2015
I was part of the White House Press Corps with NBC News during President Obama's visit to New Delhi, India in Jan 2015. I produced and contributed to NBC News stories on the visit.
Watch the video of the story I contributed to:
http://www.nbcnews.com/watch/nightly-news/obama-and-indian-pm-seize-on-personal-bond-388964931566
---
Anthony Bourdain's Parts Unknown – CNN
I was the Field Producer for Anthony Bourdain's acclaimed show Parts Unknown's India Episode on CNN. I managed all the logistics from getting filming clearances from the Indian Consulate and MEA, getting J visas organized, producing blanket permissions to film along India's border areas and in the states of Punjab and Himachal Pradesh. I was also responsible for finding locations, characters, and many other critical components of the show.
I was also interviewed by Anthony Bourdain for the show.
---
The Untouchable Kids Of India – Nick News with Linda Ellerbee:
I worked as a fixer for Lucky Duck Productions "Nick News" show shot all over in India for over a month in 2007. I assisted the visiting crew with almost everything including permissions for the shoot, travel, identifying subjects for the shoot, coordinating with locals in some sensitive areas etc and managed to get everything the team wanted.
---
NBC Nightly News:
I worked with Mara Schiavocampo, the first Digital Correspondent of NBC News for a 10 day shoot spread across various cities in India. Even though the project came to me at the last minute, I managed to procure permissions, identify subjects, companies etc for the various stories Mara covered in India.
We covered stories in Bangalore, Tirupati, Chennai, Pune and Mumbai. Whatever Mara wanted, I got it organized while we were on the move.
---
MTV USA – Exiled!:
I was the Local Producer for MTV's much awaited reality show Exiled! Shot in Kerala, India. This was a huge production and I was responsible for finding the locations, subjects, getting permits from the Ministry of External Affairs, the forest departments, state government etc and all the other production logistics of the filming.
---
Discovery Channel – FightQuest:
I worked as the Local Producer for Fight Quest, A popular reality show on Martial Arts by the Discovery Channel. I was responsible from getting the permits to coordinating the shoot in Kerala, India.
---
Nick News – Torchlight on Tibet:
Lucky Duck Productions chose to work with me again for their second documentary in India about issues faced by Tibetan Children in India.
I took care of the complete logistics of the documentary which was shot in Dharamshala, Himachal Pradesh and New Delhi. .
---
NBC News – Mumbai Terror Attacks
I worked with NBC News as the local producer and was responsible for coordinating various interviews, did live phoners and help get the network exclusive footage of the attacks.
---
ITN UK
I worked with ITN UK on many stories including the Mumbai Terror Attacks, The Chennai cricket test match etc. I have produced the Shilpa Shetty interview on the Jade Goody topic.
---
EXPEDITION: Blue Planet with Alexandra Cousteau
I worked as a Local producer in India for Expedition: Blue Planet, a 100 day, 5 continent expedition on water issues by Alexandra Cousteau, grand daughter of legendary Jacques Cousteau.
---
Dateline NBC: The Slumdog Millionaire Show
NBC News came to India for their popular Dateline show. Dateline NBC explored the lives of "Slumdog Millionaire" children Azhar and Rubina to know more about their lives post the success of the academy winning movie and the adulation bestowed on the child actors. NBC interviewed the children, their parents and various other people including the officials of "Jai Ho" trust, child rights activists, government officials etc on various topics concerning the children.
For a week, Dateline NBC followed in depth the day to day life of Azhar and Rubina in the slums of Mumbai. We helped NBC produce the show by conducting interviews, giving logistical support and taking care of all other aspects of the production.
---
BBC1: MasterChef
MasterChef, United Kingdom's most popular cookery show, receiving on average 5 million viewers an episode came to India for one it's final episodes of the season. We helped the MasterChef team in everything from sourcing permits to arranging locations and all other logistics involved for the filming.
---
IYF (International Youth Federation)
I directed the IYF's Mumbai segment which was aired on CNN as a part of a much larger show.
-——————————————————————————————————————————————————————————————————
Visa:
I was the Line Producer for a Visa corporate film, shot in Mumbai. We managed to get some impossible permits and sourced top quality crew and equipment for the project.
---
Channel News Asia:
Worked as a local producer for a documentary on honor killings for Channel News Asia, filmed in Delhi, Haryana and Punjab. Managed all logistics, including arranging interviews with some prominent people, victim's families etc.
---
Channel News Asia:
Worked as a local producer for a show titled "Asian Century" on returning NRI's, filmed in Bangalore.
---
Goldman Sachs:
I worked as a Line producer for two corporate films for Goldman Sachs, shot in Mumbai and Delhi.
---
USTV Pool (NBC), Obama's Visit to India:
I was the local producer and part of the White House Press Corps for the USTV Pool which accompanied the US President Barack Obama to India. Managed all logistics including tie ups with various organizations like Host TV etc.

North Lawn of The White House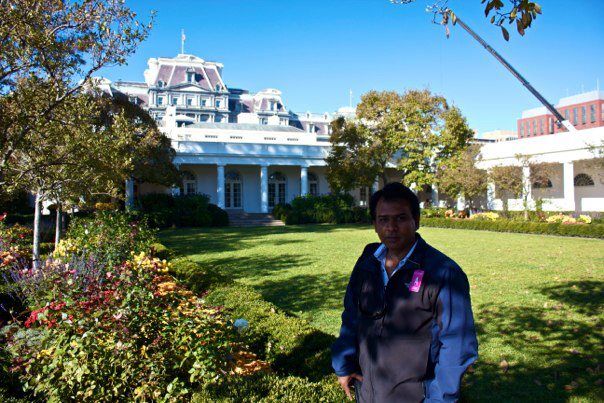 Standing in the Rose Garden with the Oval Office behind.
-————————————————————————————————————————————-
Half The Sky: PBS Documentary with Nick Kristof
I worked as the Local Producer for the PBS documentary "Half The Sky" in Kolkata, India with Nick Kristof and America Ferrera (Ugly Betty fame). I was responsible for researching the stories, finding characters and also the person responsible for training our partners and personally using hidden cams for the filming. This was a major shoot and I organized everything from start to finish and was responsible for 3 separate units filming across the country.

With America Ferrera
-————————————————————————————————————————————-
Dateline NBC: Hansen Files
I worked as the field producer for a major investigative story for Hansen Files on Dateline NBC, one of the top news show in the US. I worked on the research, filming and also went undercover to expose the clinical drug trial industry in India.
---
Channel News Asia: Beautiful Minds
I worked as the Line Producer for the documentary "Beautiful Minds" for Channel News Asia, Singapore. I worked on the research of the stories and organized all the logistics of the filming.